Work Injury Treatment In Chula Vista, CA
The average person will spend about 90,000 hours at work over the course of their lifetime. Whether you work in a field that requires heavy lifting and manual labor or you spend your days sitting at a desk, work-related injuries can happen to anyone and it can significantly affect both your working and personal life. Even something as simple as poor posture can lead to lower back and neck pain, as well as other conditions like carpal tunnel syndrome. Even one minor fall can cause a herniated disc or other spinal problems. If you are dealing with a work-related injury, Wachs Chiropractic Health Center is here to help you.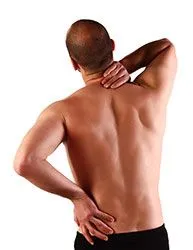 Back injuries continue to be one of the most common work-related injuries. Those who find themselves hunched over their computer for hours on end many experience muscle stiffnesses, soreness, and back pain. The first step to treating your chronic back pain effectively is to first pinpoint the cause. Certain massage techniques coupled with ergonomic lifestyle adjustments such as recommended back support and better office chairs can help to eliminate strain.
Herniated discs and compressed nerves are also common in the workforce and can cause back and neck pain, as well as numbness. Spinal manipulation and adjustments can help to alleviate these chronic conditions and improve both mobility and range of motion. We can create a unique treatment plan that caters to your specific health needs and lifestyle.
Those who work on computers for a living may also experience carpal tunnel syndrome, a painful condition that is caused by compression of the median nerve, which runs from the forearm to the palm of your hand. This disorder can cause swelling, pain, numbness, tingling and difficulty holding objects. Physical therapy, massage therapy and spinal adjustments and manipulation can help to alleviate your pain without needing medication.
The specialist at Wachs Chiropractic Health Center will help find the right treatment for your injuries! Relief is only a call away, (619) 427-4747 !
DR. STEVEN M. WACHS, D.C., Q.M.E., C.C.S.P.
Specializing in Workers' Compensation, Industrial Medicine, Injury & Accidents, Trauma, and Impairment Assessment
AME & QME Exam Specialist
*Qualified Medical Evaluator (Q.M.E.), Appointed by The State of California, Division of Workers' Compensation-Medical Unit
*Independent Medical Evaluator (I.M.E.), Appointed by The State of California, E.D.D., Disability Insurance Program
*Certified Industrial Disability Evaluator (I.D.E.)
*Certified Chiropractic Sports Physician (C.C.S.P.)
*Senior Disability Analyst and Diplomate of American Board of Disability Analysts (A.B.D.A.)
*OWCP (Office of Workers' Compensation Program…U.S. Department Of Labor)
*NEXUS Panel Physician
Nexus Medical Consulting

*VETERANS ADMINISTRATION (V.A.) Authorized Provider
LOCATIONS:
359 Third Avenue, Suite B (619) 427-4747
Chula Vista, Ca 91910
2741 Vista Way ( (619) 427-4747
Oceanside, Ca 92054
105 N. Rose Street, Suite 100 (619) 427-4747
Escondido, Ca 92027
Fax: 619-427-4752

CALL US TOLL FREE: 800-917-7147
DR. STEVEN M. WACHS, D.C., Q.M.E., C.C.S.P.
Specializing in Workers' Compensation, Industrial Medicine, AME & QME Exams

CURRENT LIST OF MPN'S
ACE
AMERICAN RISK SERVICES
APPLIED RISK SERVICES
ARROW POINT CAPITAL
ANTHEM WORK COMP/BLUE CROSS
AMERICAN SPECIALTY HEALTH
CAMRIDGE INSURANCE
CHARTIS
CITY OF MURIETTA
CNA
CORVEL
CYPRESS CARE/OPTUM HEALTH
ESIS
F.A. RICHARDS
FARMERS WORKERS COMP
FIRST HEALTH
GALLAGHER BASSETT
HARTFORD INS CO.
IHP
KEMPER
LIBERTY MUTUAL
MULTI-PLAN
ONE BEACON
SPECIALTY RISK SERVICES
ST.PAUL
STATE COMPENSATION INS.
FUND (SCIF)
SEDGWICK
THE HARTFORD
THREE RIVERS
TRISTAR
WAUSAU
ZURICH
US DEPT OF LABOR
ONE BEACON
CALL US TOLL FREE: 800-917-7147